We are an approved ASHA Continuing Education Provider and we offer self-study courses on DVD and CD for ASHA CEUs. Our courses are also available for group learning (see below). View our self-study courses for CEUs here >
Getting CEUs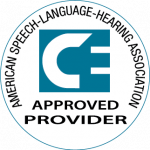 After participating in one of our self-study courses, you may enroll for CEUs using our online enrollment forms.
Please allow up to 8 weeks for us to process registrations. Once your registration is processed, you will receive a confirmation email including your certificate of completion as a PDF. If you must complete ASHA CEUs by a licensing renewal deadline, you should submit all paperwork to us 12 to 16 weeks in advance of your renewal deadline.
Group Learning
If you would like to take a course with others in a group, we offer group learning prices for additional participants. Simply purchase the CD/DVD (which includes 1 CE participant) and also purchase the additional number of CE Participants that wish to take the course. All CE participants in a group will receive copies of the handout to use while following along with the DVD, which can be viewed as a large group or in small groups or individually for each participant who has purchased a registration.
Not an ASHA Member?
If you are not an ASHA Member or you do not wish to receive ASHA CEUs for a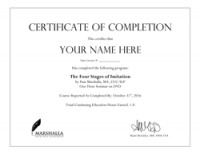 course, we are happy to give you (only) a certificate of completion after you take the course. You will be given instructions on how to opt out of ASHA reporting when you submit your forms to us.
ASHA CE Registry & Fee
To earn ASHA CEUs, subscribers must have paid their annual ASHA CE Registry fee. Individuals must meet at least one of the following conditions to be eligible to earn ASHA CEU:
ASHA Member (includes Life member and International affiliates)
ASHA Certificate of Clinical Competence (CCC) Holder
Licensed by a state or provincial regulatory agency to practice speech-language pathology (SLP) or audiology
Credentialed by a state regulatory agency to practice SLP or audiology
Credentialed by a national regulatory agency to practice SLP or audiology
A Clinical Fellow supervised by someone who holds the ASHA CCC
Currently enrolled in a masters or doctoral program in SLP or audiology
The participant pays ASHA CE Registry fee directly to the ASHA National Office. The annual ASHA CE Registry fee allows registration of an unlimited number of ASHA CEUs for the calendar year. Contact the ASHA CE staff at 800-498-2071 or visit http://www.asha.org/ce/CEUs for CE Registry fee subscription information.
Contact Us
Correspondence regarding our continuing education programs may be directed to our CEU Administrator by using the contact form on our website here.
---
Marshalla Speech & Language (MSL) is approved by the Continuing Education Board of ASHA to offer CE courses in speech-language pathology and audiology. ASHA Continuing Education Provider approval does not imply endorsement of course content, specific products, or clinical procedures.