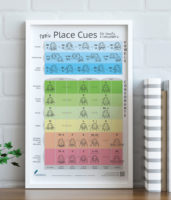 Pam's Place Cues is a system for cueing vowels and consonants by focusing on each phoneme's place of articulation, using hands and mouth for the poses. These cues were developed specifically for clients with severe expressive speech disorders such as apraxia and dysarthria but can be used with a wide variety of clients with various needs.
Videos can be viewed below or on YouTube, or can be downloaded in different formats/sizes for use offline.
* Right-click and select "Save link as…" to save the file to your computer.
We also have a poster of Pam's Cues which offers therapists and parents an easy reference in a well-organized and easy-to-use format and is available in two versions: flat for displaying on the wall or folded and hole-punched for use in a binder.
Pam's Place Cues for Consonants
Pam's Place Cues for Vowels