Description
Pam's second material on childhood apraxia presents a deep perspective on speech sound development. This material is presented as a book and as a 3.5-hour audio seminar over three CDs.
This course is available for ASHA CEUs and/or Continuing Education Hours and is also available for group CEUs (see below).
Download the first 31 pages and begin reading today!
"I consider this book a "must have" for my library. I refer to it again and again as a resource to determine next steps for interventions with children on my caseload. "
— Mary Richardson Vaughan, SLP
Book & Seminar Details
Using a month-by-month developmental framework, Pam describes how to nurture sound development in children who have great difficulty learning to make sounds and speech. Pam Marshalla integrates information from articulation, phonology, oral-motor, and infant vocal development into a comprehensive plan of treatment. Apraxia Uncovered will help you understand how to help the child make a wider variety of consonants, vowels, syllables and words, and to become more intelligible. Techniques are appropriate for children of all ages.
Hundreds of therapy suggestions
Reference book that fully summarizes lecture material
Based on thirty years of Pam's clinical experience
Pam's famous practical style
"I found Apraxia Uncovered to be extremely powerful in my understanding of apraxia and how to better treat my young students experiencing speech motor planning issues! Thank you!"
— Kathleen Anasagasti, SLP
The Seven Stages of Phoneme Development
Preparing – getting the voice ready for speech
Speechifying – making utterances sound speech-like
Honing – zeroing-in on non-vocalic consonants differentiated by place
Oscillating – incorporating reciprocating oral movements
Solidifying – establishing basic syllable constructions
Advancing – leaping beyond simple syllable constructions
Finishing – adding clusters and stridency at all levels of speech
A Note To Parents
Pam has written this book and recorded this seminar in such a way that you will be able to follow the content. However, before you dig into this rather detailed material, Pam recommends that you read her earlier book, Becoming Verbal With Childhood Apraxia.
Apraxia Uncovered is:
Book, softcover, 160 pages
Also available: 3 CDs (3.5-hour audio seminar)
Also available: optional 0.35 ASHA CEUs (see details below)
Appropriate for SLPs and some parents
For children of all ages
Download the first 31 pages and begin reading today!
"I have found this book so helpful for my understanding of speech development. Marshalla really explains phonological development and how our understanding of the natural progression can help us with so many clients when we overlay the process (stretched out or compressed) over our clients' progress. Love this book."
— Alison Kerry, SLP
Common Question About This Material
Can you tell me how your books "Becoming Verbal With Childhood Apraxia" and "Apraxia Uncovered, The Seven Stages of Phoneme Development" are different? Which one should I read first?
Think of Becoming Verbal With Childhood Apraxia as Part 1. It is about how to get kids more vocal, verbal, communicative, imitative and interactive, and how to get them to play with the sounds they make. Read it first.
Think of Apraxia Uncovered, The Seven Stages of Phoneme Development as Part 2. It is about how sound develops over time – from the vocalizations of the infant to the sophisticated consonant and vowel sequences of the three-year-old. Read it or listen to the recorded seminar second.
Learning Outcomes
At the completion of this 3.5-hour course, participants should be able to:
Name the seven stages of vocal development
Describe the important characteristics of each stage
Discuss how the stages of vocal development apply to children with apraxia and dysarthria
List a variety of methods and procedures that can be used to facilitate vocal development in children with severe expressive speech delay/disorder
Continuing Education Enrollment
All book+CDs sets are mailed with continuing education enrollment instructions. After listening to the lecture, please register for your CEUs on our website here.
If you do not wish to receive ASHA CEUs for this course, we are happy to give you (only) a certificate of completion after you watch the video — you will be given instructions on how to opt out of ASHA reporting when you submit your paperwork to us.
Group CEU Options
For those who would like to share the book and CD Set, we offer individual CE enrollment for $25 per participant. Group participants will all receive a handout to use when listening to the lecture together.
Already Purchased The Book & CDs?
For those who purchased the book and CD set, together or previously, before they were available for CEUs, we offer individual CE enrollment for $10 per participant. With this purchase, you will receive a link to download the CE Information letter for this course which includes information on how to register for CEUs for this course, including your enrollment pin.
ASHA Continuing Education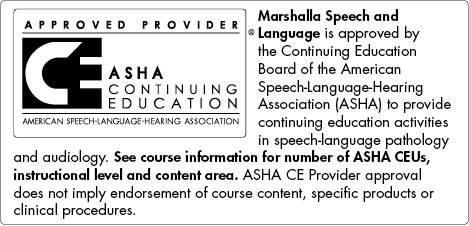 Marshalla Speech and Language is an approved ASHA Continuing Education Provider.
This course is offered for 0.35 ASHA CEUs (Intermediate level, Professional area).
Disclosures
Financial Disclosure: Pam Marshalla was the owner of Marshalla Speech & Language (MSL), through which this CD and book were originally published and from which she received a monthly salary. Pam Marshalla passed away in June, 2015. This CD set and book continue to be published by MSL.
Non-Financial Disclosure: Neither Pam Marshalla nor Marshalla Speech & Language have any non-financial relationships to disclose.
ASHA CE Registry & Fee
To earn ASHA CEUs, subscribers must have paid their annual ASHA CE Registry fee. Individuals must meet at least one of the following conditions to be eligible to earn ASHA CEU:
ASHA Member (includes Life member and International affiliates)
ASHA Certificate of Clinical Competence (CCC) Holder
Licensed by a state or provincial regulatory agency to practice speech-language pathology (SLP) or audiology
Credentialed by a state regulatory agency to practice SLP or audiology
Credentialed by a national regulatory agency to practice SLP or audiology
A Clinical Fellow supervised by someone who holds the ASHA CCC
Currently enrolled in a master's or doctoral program in SLP or audiology
The participant pays ASHA CE Registry fee directly to the ASHA National Office. The annual ASHA CE Registry fee allows registration of an unlimited number of ASHA CEUs for the calendar year. Contact the ASHA CE staff at 800-498-2071 or visit http://www.asha.org/ce/CEUs for CE Registry fee subscription information.