Description
iSATPAC is sold exclusively by SATPAC.com and is endorsed by Pam Marshalla.
iSATPAC is a software program (now an online app) designed to generate words, phrases, and nonsense words for phoneme targets. Use iSATPAC to quickly access a huge assortment of client-specific practice material for repetition and drill in articulation and phonological therapy.
Online software/app (lifetime paid account)
Accessible on any computer or smart device
Generate unlimited client-specific word lists of phoneme targets
Appropriate for SLPs
"I am having the best time generating word lists and presenting them to my students. I'm using this approach in remediating the /r/ and have found great success in less than a week. It truly is an amazing program!"
— Sarah Bell, SLP
With the purchase of iSATPAC, users will receive a permanent access code to the iSATPAC program online. Users are entitled to unlimited free software updates that are automatically managed, downloaded, and installed without hassle. Additionally, the iSATPAC software can be used on multiple computers and on most smart devices.
Overview
iSATPAC (Systematic Articulation Training Program Accessing Computers) helps clients establish, generalize and transfer articulation target sounds to real speech with the aid of lists generated within the program. Lists are generated easily and can be printed for off-computer use.
Access a demo video here.
iSATPAC is a systematic articulation online program which incorporated facilitating contexts, coarticulation, and natural prosody at a conversational rate with numerous repetitions of the target sound to quickly remediate deficits. A recent study using these techniques with the /s/ sound showed two-thirds of the students were remediated in just 2.5 hours of therapy time.
"The SATPAC Program is systematic and user friendly. It gives articulation students maximum practice in a step-by-step format. They know at each step what level of achievement is expected of them and if they have met their goals. Concentrated practice enables students to progress at a faster rate. Practice lists are generated at the click of a mouse-a great time saver. This is a valuable tool."
— B. H. Moats
Award Winning
iSATPAC was developed by speech-language pathologist, Stephen Sacks, MA, CCC-SLP. Stephen received the 2011 Rolland J. Van Hattum Award for Contribution in the Schools for the development of this program. The award recognizes outstanding commitment and contribution to service delivery in the schools.
SATPAC is:
Systematic
Portable
Highly motivational
Appropriate for all ages
Appropriate for English language learners
Customizable; sounds not in student's repertoire can be excluded
Used with facilitating contexts for rapid transfer to real speech
Easily used to document student's progress
"I can't get over the progress my difficult /r/ clients have been making using SATPAC. They have made considerable gains in producing an accurate /r/ in most contexts, and they are highly motivated because they are excited about their gains. They actually look forward to coming to speech. Two of these clients have been in speech for 3 years, and are just now making the progress they need to "graduate" from speech."
— Lisa Dugoni, SLP
Features
iSATPAC produces lists of VCCV, CVCCV, VCCVC, and CVCCVC phoneme combinations and words. iSATPAC allows the target sound to be repeated either adjacent to the target or in alternate locations. Below is an example of a student who is developing the fricative sound /s/ in one facilitating VCCV context.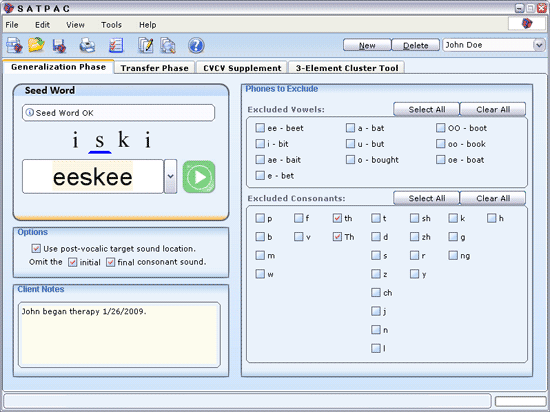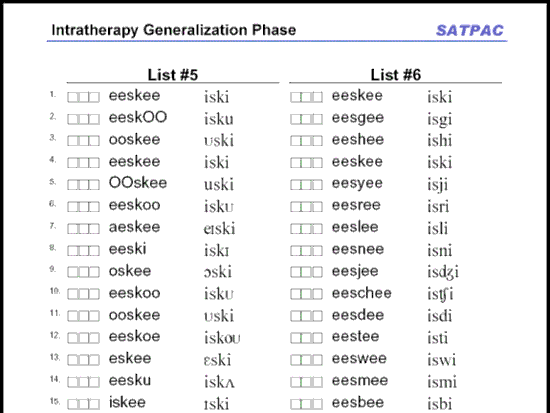 Notice how the other fricative sounds have been eliminated from the lists.
GENERALIZATION PHASE
After the target sound is established using one facilitating context, it is generalized to all contexts. Below is the main screen of the Generalization Phase.
For this student with the fronting phonological process (below), the target sound is the /k/ in the facilitating context CVCCVC word mokmop. Note that the /t,d/ sounds which interfere with correct production are eliminated from the 9 lists produced.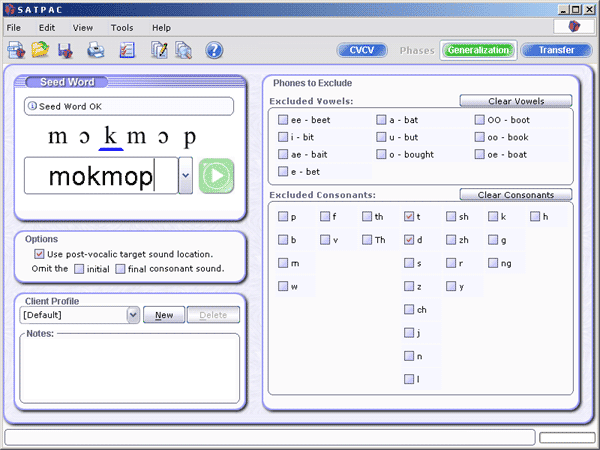 Below are lists 5 and 6. Notice that the student transitions from the /km/ context in list 5 to all k-consonant contexts in list 6. The lists move further and further away from the facilitating context and each list is systematically more difficult than the previous list.
Finally in list 9, the /k/ sound is said in sentences using contrastive stress with the student answering the SLP's questions as an exercise to simulate real conversational speech.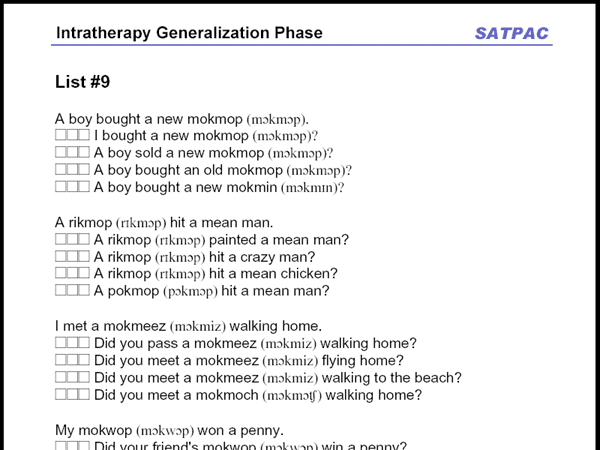 TRANSFER PHASE
After the sound is generalized, it is transferred into phrases, sentences, and contrasting sentences. iSATPAC has contrasting sentences for the more common phonological processes.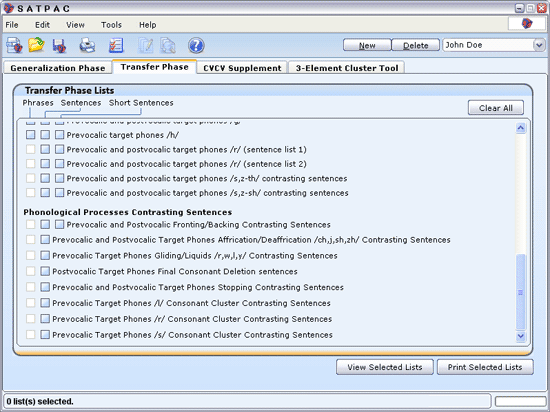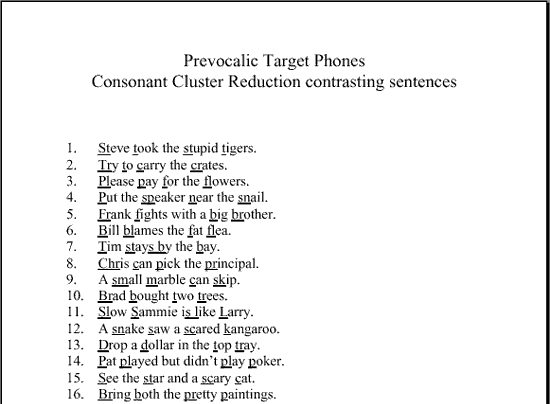 There are 50 phrases abutting every consonant sound in both the prevocalic and postvocalic position (e.g., cold duckpond, popcorn snack, crazy sick bay, labcoat rack, etc.). There are 100 target sounds making it easy to get a baseline.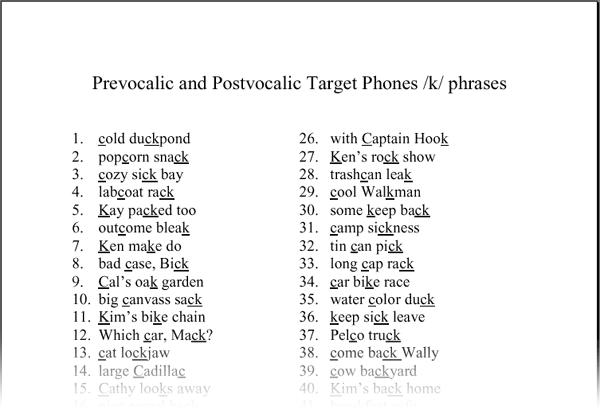 After completion of the phrases, sentences loaded with the target sound are presented. Again, there are 100 target sounds for easy base-lining.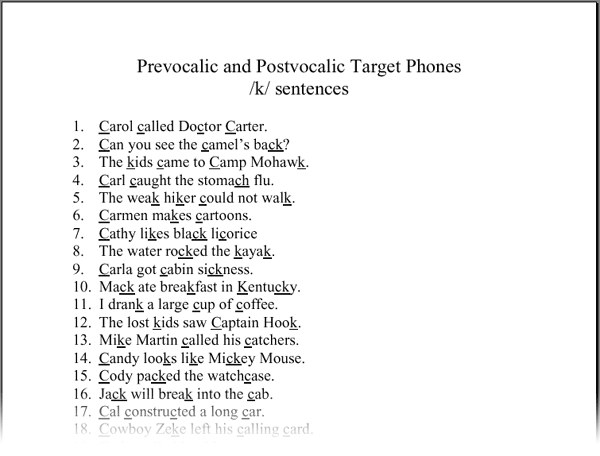 The transfer phase continues with contrasting sentences for the phonological process of fronting. The target sound and cognate are presented with the previous error sounds (i.e., the t,k,d,g sounds are contrasted). This is the final phase of the SATPAC program. Many students are remediated at this point. If not, other activities such as reading from classroom texts, answering questions about what was read, telling narratives, etc. would be appropriate.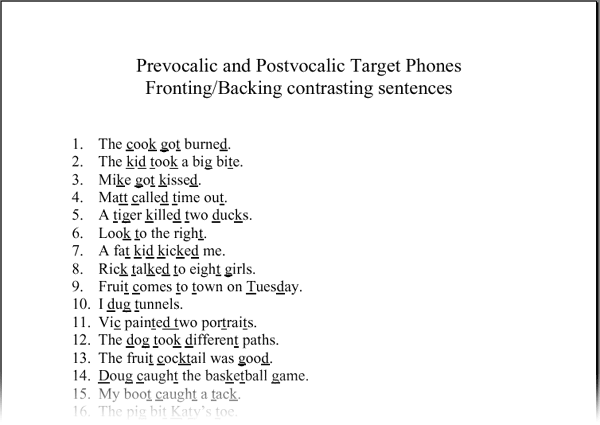 PRESCHOOL SUPPLEMENT
iSATPAC allows the user to develop four customized CVCV lists for those preschoolers with severe deficits or Developmental Verbal Dyspraxia. Below is list #2 of the four-list supplement: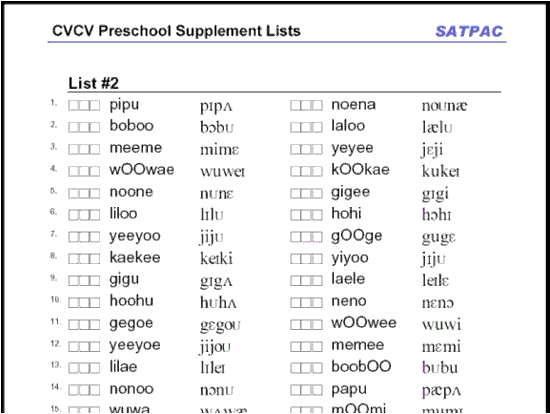 Note that this is for a student who has no fricative sounds, has difficulty with fronting when /t,d/ are present, has no /r/ sound and no affricates. Note how all these are eliminated allowing the student an opportunity to fluently and correctly produce the CVCV combinations. Each list is systematically more difficult than the previous list.
CLIENT PROFILE MANAGER
iSATPAC will automatically save all list settings, configuration options, and previous seed words per client or student. With a convenient client profile manager you can specify different sounds to exclude per client, save special notes per client, and more.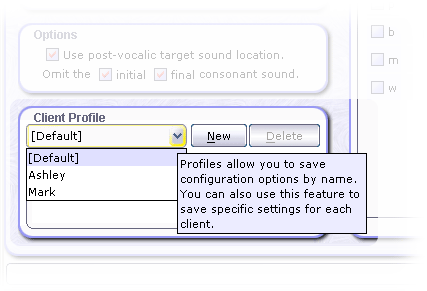 Frequently Asked Questions
Can iSATPAC be used on more than one computer?
Yes, iSATPAC is sold on a per-user basis and is not bound by the number of students or computers the user deals with. A single iSATPAC account is not allowed to operate on more than one computer at a time.
Is there a demo available?
Yes! You can now try iSATPAC before you buy, simply click here to take an online tour at the SATPAC website or to request an instructional video free of charge.