Description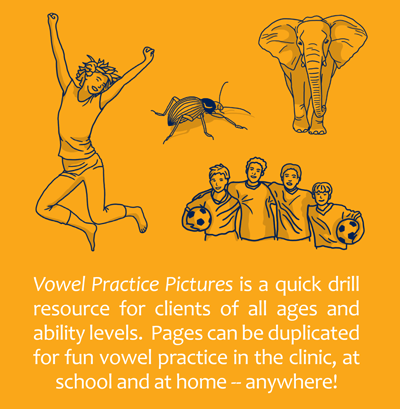 Vowel Practice Pictures contains hundreds of words carefully chosen for their vowel content and arranged simple-to-complex by syllable shape and phonological pattern. This book serves as a quick drill resource for clients of all ages and ability levels.
Book Details
Vowel Practice Pictures contains 375 words chosen for their vowel content, giving speech-language pathologists, teachers, and parents a quick resource for vowel practice. The material in this book is arranged for working with children who have vowel substitutions, distortions, or omissions at all language levels and no matter the cause of their speech delay or impairment.
Each vowel in Vowel Practice Pictures is introduced with a main character and an action to engage young children, and every word is accompanied by an illustration. Pages can be duplicated for fun vowel practice in the clinic, at school and at home — anywhere!
This book can be used in individual or group speech-language therapy or as a source of material for classroom speech improvement activities. It also can be used as a foundation of homework activities, homeschooling instruction, or simple one-on-one reading or speech practice time. Vowel Practice Pictures has been printed in black-and-white with spiral binding so that individual pages can be easily reproduced for coloring and other arts-and-crafts projects.
Download a preview of this book and begin reading today!
"I LOVE how this book is organized by vowel placement and using the vowel quadrilateral. I use this with all of my clients!!"
— Kathy C, SLP
Vowel Quadrilateral
This book contains target words that have been carefully chosen to represent all English vowels organized by phonological patterns. The vowel quadrilateral — employed as the foundation of this material — represents the vowels by jaw position and tongue arching.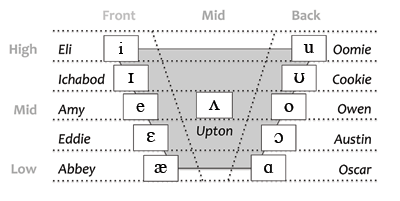 "I bought this book thinking I might use it for a few clients, but I find myself using it ALL THE TIME and have since bought two more copies. This is also a great gift for other SLPs!"
— Sue Sicard-Kane, SLP
Vowel Practice Pictures is:
Softcover
54 pages
Spiral-bound for easy copying
Appropriate for SLPs and parents
Download a preview of this book and begin reading today!
"I LOVE this VOWEL practice pictures book! I've got two of my most difficult to understand kids working on vowels using this book and Pam's Vowel Cues on YouTube and I'm really pleased with the results. Thanks!!"
— Rachel Stansberry, SLP