Description
In this audio seminar and booklet, Pam reveals how children can become significantly more intelligible when the focus of speech-language treatment shifts from the consonants to vowels in apraxia and dysarthria. This one-hour lecture on CD was originally published as Vowel Tracks for Improving Intelligibility.
This course is available for ASHA CEUs and/or Continuing Education Hours and is also be available for group CEUs – see below.
"Invaluable information, clearly presented and ready to be implemented immediately the next day. Possibly Pam's best presentation!"
— Amazon review by Teafortwo
Seminar Details
This material is designed to help make decisions about vowel training in clients with very low intelligibility; SLPs have to figure out for themselves what to do with clients such as these, and that means that we have to make up our own methods. Based on decades of clinical observations and experimentation, Pam reveals how children can become significantly more intelligible when the focus of speech-language treatment shifts from the consonants to vowels in apraxia and dysarthria.
Excellent for both student and professional speech-language pathologists. Can be used with parents and other team members in training seminars.
"I love how Marshalla breaks down the vowels! Focus on the vowels is the KEY to intelligibility — I never knew that until now!"
— Barbara Gill, SLP
Learning Outcomes
Participants will learn to:
Describe the role vowels play in intelligibility
Explain why the neutral vowel solidifies unintelligibility when teaching consonants
Use the vowel quadrilateral to make decisions about vowel training
Identify how and why vowels can be organized into three Vowel Tracks
Train each vowel and diphthong
Seminar Outline
About This Material
The Problem
The Importance of Vowels
The Animal in the Window
Problems We See In Clients
What We Usually Do
What We Should Do
Experience Co-Articulation
Choosing Vowels
 Vowel Tracks: The First Level
Multi-Sensory Training
Second Level
Diphthongs
Without Diphthongs
How Does Speech Sound?
Training Diphthongs
Diphthong Tracks
Third Level
Errors on Third Tier Vowels
Developing Short Vowel Skill
Short Vowel Learning
High-Functioning Clients
R and L Problems
Diphthongs, R and L
Pass the Test / Fail Conversation
References
Vowels & Intelligibility is:
1 One-Hour CD (audio seminar)
34-Page Handout Booklet
Appropriate for SLPs and some parents
Available for optional 0.1 ASHA CEUs (see details below)
"I have listened to this CD two times now. It is excellent and I have begun to incorporate it into my therapy. It is amazing the difference it is making!"
— Karen Kumar, SLP
Continuing Education Enrollment
All CDs are mailed with continuing education enrollment instructions. After watching the video, please register for your CEUs on our website here.
If you do not wish to receive ASHA CEUs for this course, we are happy to give you (only) a certificate of completion after you watch the video — you will be given instructions on how to opt out of ASHA reporting when you submit your paperwork to us.
Group CEU Options
For those who would like to listen to the CD together, we offer group packages. Group CD packages come with one CD and handout booklet and all CE participants will receive photocopies of the handout to use while following along with the DVD. The cost for each additional group participant is only $25.
ASHA Continuing Education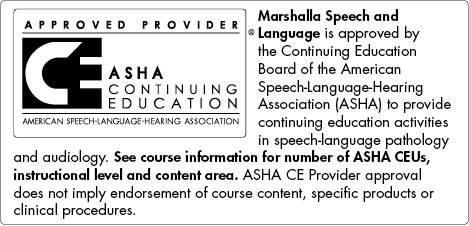 Marshalla Speech and Language is an approved ASHA Continuing Education Provider.
This course is offered for 0.1 ASHA CEUs (Intermediate level, Professional area).
Disclosures
Financial Disclosure: Pam Marshalla was the owner of Marshalla Speech & Language (MSL), through which this CD was originally published and from which she received a monthly salary. Pam Marshalla passed away in June, 2015. This CD continues to be published by MSL.
Non-Financial Disclosure: Neither Pam Marshalla nor Marshalla Speech & Language have any non-financial relationships to disclose.
ASHA CE Registry & Fee
To earn ASHA CEUs, subscribers must have paid their annual ASHA CE Registry fee. Individuals must meet at least one of the following conditions to be eligible to earn ASHA CEU:
ASHA Member (includes Life member and International affiliates)
ASHA Certificate of Clinical Competence (CCC) Holder
Licensed by a state or provincial regulatory agency to practice speech-language pathology (SLP) or audiology
Credentialed by a state regulatory agency to practice SLP or audiology
Credentialed by a national regulatory agency to practice SLP or audiology
A Clinical Fellow supervised by someone who holds the ASHA CCC
Currently enrolled in a master's or doctoral program in SLP or audiology
The participant pays ASHA CE Registry fee directly to the ASHA National Office. The annual ASHA CE Registry fee allows registration of an unlimited number of ASHA CEUs for the calendar year. Contact the ASHA CE staff at 800-498-2071 or visit http://www.asha.org/ce/CEUs for CE Registry fee subscription information.